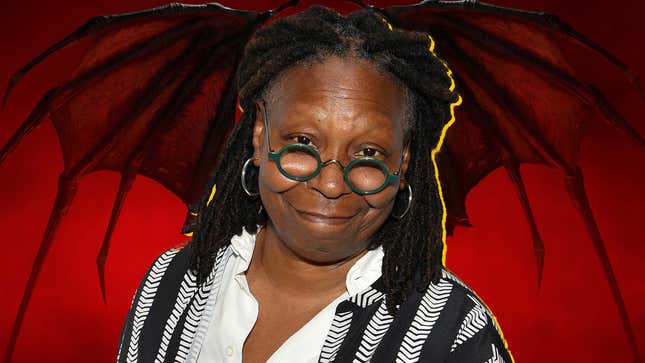 Here's an odd bit of port begging. Whoopi Goldberg is upset that Diablo IV has skipped Apple's Mac and has posted a video asking Blizzard to port the game over. But good news: Mac fans have already figured out a solution that might help her (and other Mac users) play Diablo IV. 
Diablo IV is a runaway hit, with a (mostly) smooth launch, good reviews, and a lot of online buzz. The game has already made it into our best games of 2023, Megan Fox is willing to eulogize your in-game Diablo deaths, and people are already reaching level 100. It's also Blizzard's fastest-selling game, ever. However, not everyone is happy about Blizzard's latest action-RPG. Theodore Rex star Whoopi Goldberg, along with other Mac gamers, aren't pleased that the latest Diablo entry, unlike its 2012 predecessor, has skipped Mac computers.

On June 7, Goldberg posted a video on her Instagram calling out Blizzard for not making a Mac port of Diablo IV. And while she did admit that this isn't a real problem compared to all the other things going on in the world, the star still wanted to make it clear: She wasn't happy.
"This is what I'm asking you, Blizzard Entertainment," Goldberg said, "This is Whoopi. You know how much I love Diablo. I would like y'all to let those of us who use our [Macs] to play. Allow us to play on the Apple. Take Diablo IV and let us do it and have a great time."

Goldberg ended the video by acknowledging that a lot of her fans on Instagram might not know anything about Diablo or Blizzard or any of this gamer shit, saying that "Those of you who don't get it" shouldn't worry or listen to her rant.

"If you don't play Diablo IV, it doesn't make any sense, don't spend time telling me how stupid it is that I'm talking about it. This is what's pissing me off. These are the little things that irritate the hell out of me."

In response, Diablo general manager Rod Fergusson tweeted that he didn't have "Whoopi Goldberg yelling at me on Instagram" on his "Diablo IV launch bingo card." And I don't expect many others did as well, but mainly because I don't think most people have such a bingo card.

How to play Diablo IV on your Mac
But wait, I might have some good news for Whoopi Goldberg and other upset Mac gamers. On June 6, Apple released its Game Porting Toolkit. This new software acts as a "translation layer" and in theory should allow many Windows-based PC games to run on Mac OS with very little effort.

While the software is currently in beta and is mainly intended for developers to use in the porting process, users can download the kit and give it a whirl. And results have been surprisingly good, for some games. As PC Gamer reports, Cyberpunk 2077 isn't running very well on Macs using this new software. But Diablo IV is actually very playable thanks to Apple's Game Porting Toolkit.

One user on Reddit was able to get Diablo IV running at 80ish fps with settings all maxed out on an M2 Mac running Sonoma OS. Keep in mind, this is just a random user who doesn't have access to the actual engine or code of Diablo IV. In theory, Apple's new porting tools should make it easier for developers to bring over new PC games, like Diablo IV.

So, Whoopi Goldberg, whom I assume is reading this right now: good news! Follow these steps, install Battle.Net, and you should soon be slaying demons in Diablo IV, assuming your Mac meets the requirements for Apple's beta software. I am happy I could help.

.